Autumn Serenity-90 min Hot Stone Massage
As you enter into your treatment room, you will be greeted with the fresh scent of autumn air. Sink into the warm, cushioned table and drift away as your body, mind and spirit sets sail on a deeply meditative journey. Enjoy a SpaRitual Instinctual hot stone massage. Enhanced with ginger to warm the body, fight inflammation and release deep set tension and stress.


JadeStone Fall Facial-90 mins
Get This Deal
----------------
Hurry, this deal ends on:
11/30/2017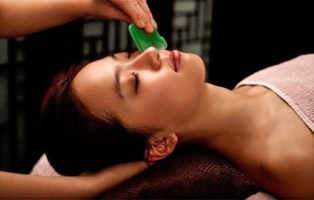 The "funky stone thing" is a toning, lifting, firming treatment for the face and is made even better with this relaxing fall twist! This premiere facial may be found at high end spas (such as the Manderin Oriental Spa) for upwards of $350. Now this luxurious service is available at a fraction of the cost here at the Jersey Shore. GuaSha is a traditional Chinese treatment that has been touted for its incredible beauty and healing effects, namely in preventing and treating the signs of aging such as wrinkles, sagging, dark circles, and for promoting overall skin rejuvenation from the inside out. This precise technique and tool was developed by Dr. Ping Zhang. This patented jade board is used to gently massage, manipulate and stimulate specific energy point along the face which help break up blood stagnation, release toxins, and promote lymphatic drainage. The results are beautiful and immediately noticeable. Enjoy an aromatherapy cleanse, gommage exfoliation, and a skin firming pumpkin mask. Pumpkin is high in Vitamin A (skin healing), C (anti-oxidant) and Zinc, the pumpkin soothes and moisturizes. Oh, did I mention the amazing hot stone back and neck massage? Yeah, this session is soooooo yummy!