The massage gift!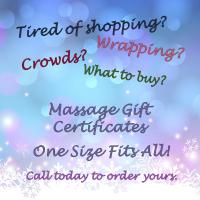 A Massage is a gift that says:
"let me help reduce some stress in our life".

Massage is the perfect gift. Always. In whatever form.
A 60 minute massage session. Included would be cbd treatment to help joint pain or over used muscle relief. You will get hot towels and holiday aromatherapy.

Holiday EXTRAVAGANZA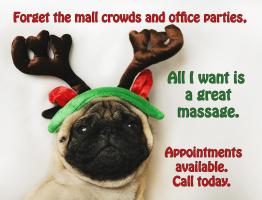 Leave the Holiday stress up to us.
Buy 10, 60 Minute therapeutic massage sessions and get any of the following add ons to include in your sessions. Peppermint Scalp Massage, CBD treatment, hot towels, aromatherapy or cupping.
Take advantage of this awesome deal and save time and money! Pre-book your appointments, walk in, and float out.

Holiday TRIO
Plus a A gift for you. 60 minute therapeutic massage Certificate!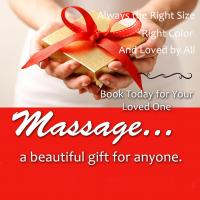 Don't let the Holiday stress bog you down! I want you to take care of YOU AND your loved ones this season!
BUY 3 get 1 free. You will Receive 3, 60 minute sessions and the 4th one must be given to a friend or family member. You will have 1 of the following options to add to your session. Peppermint Scalp Massage, CBD treatment, hot towels or aromatherapy.

Book your massage session today, experience pain relief and relaxation with massage therapy.